For 8 people:
1/2 kg chopped wheat.
1/2 kg white beans / mixed pints.
250 gr pork ribs.
250 gr bacon.
2 blankets.
2 onion black pudding.
3 potatoes.
a handful of chard.
2 small turnips.
2 chirivias.
1 piece of pumpkin.
2 thistles.
1 onion.
2 tomatoes.
2 ñoras.
12 saffron strands.
a handful of cumin.
3 fennel sticks.
sal.
oil.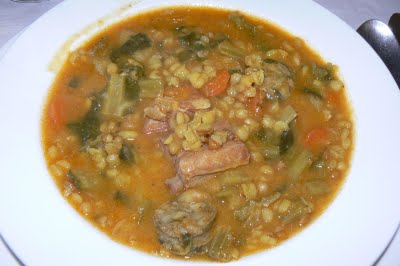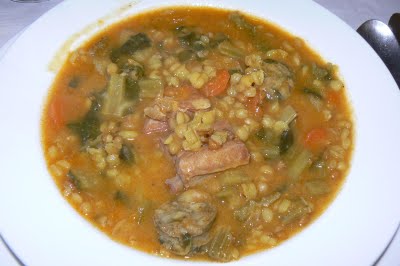 Twelve hours before soak wheat and beans together.
In the early hours of the morning, simmer wheat and beans without adding anything else for 2 hours, pour the water and add cold water covering everything.
Fry the 2 ñoras without tail or nuggets and we remove, we will pass them through the box with salt.
fry the onion until it is transparent, add the meat and fry, add the tomato, and then the sausage.
Add everything to the pot, add the clean vegetables, chopped ñora, cumin, saffron, fennel sticks, a drizzle of olive oil, salt. We add the potatoes 20 minutes before the end. You can put a pinch of dye. We corrected with salt.